Friday, October 2, 2009 @ 11:59 PM

ZOOOOOOOOOOOOOO.





HELLLLLO!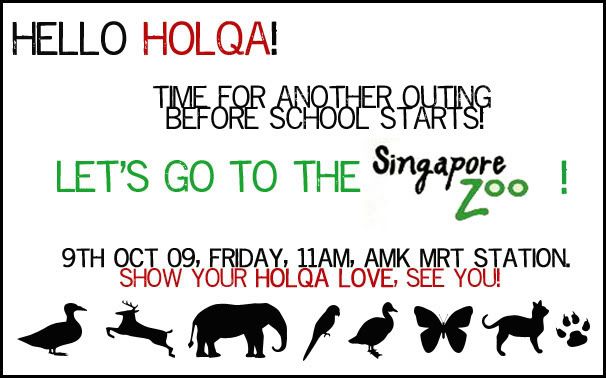 AWESOME, SEE YOU GUYS :D
Organised by Pamela and Dean!
Monday, September 21, 2009 @ 8:48 PM
TSHIRTS.
HELLO,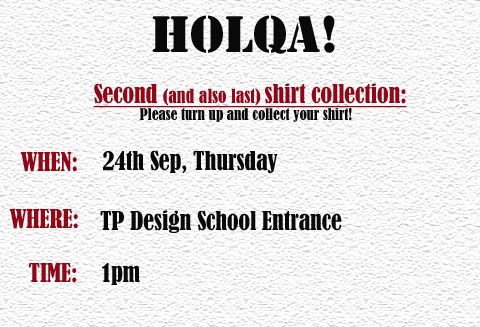 THANKS! :)
PamelaSeet.
Sunday, September 13, 2009 @ 5:00 AM
REUNION AHHHHHHHHHHHHHHH
HOLQA REUNION DINNER

TUES 15Sept

PURPOSE : REUNION & also to collect money for shirt

Time: Meet at 6.30pm

Venue: TEEPEE Mushloom (for convenience)

SPREAD THE WORD

GO GO GO !!!!!!!!!!!!!!!!!!!!!

Posted by JJ

MUHAHAHAHAHAHAHAHAHA!

(Will edit the font to be super duper extra large when blogger is not corrupted)

:D
Wednesday, September 2, 2009 @ 1:13 AM
PEAPOLE WHO HAVENT PAID THE MOOLAHS
Anthony
Amanda
BoonHow
camilia
caroline
cammie
CASS
eugene
emile
Gerald
Huifang
jasmine(both)
Jolene
kokwee
Mich
Mahal
wan freshie
Simple 
Trish
xinyuan
Yuling
Yvonne
Zahirah
Huiqi

Peapole who just ordered ( and have not paid),
TSKTSKTSKTSKTSKTSKTSKTSKTSKTSKTSKTSKTSKTSKTSKTSKTSKTSKTSKTSKTSKTSKTSKTSKTSKTSKTSKTSK!!!
CONTACT CJ (938327445), JJ (91593974) OR SHERLENE (90292882) TO PAY. PLEASE. THANK YOU VERY MUCH.
Thursday, August 27, 2009 @ 1:20 AM
HOIIIIIIII
HOKAYYY GUYS. FOR THOSEEEEE WHO DIDNT ORDER THE HOLQA SHIRT. NAO IS YOUR CHANCE TO OWN ONE. we are printing moreeeeee at the same normal price 13 BUX.
SO send me (C'zia Jyeah) your shirt size asap so that i can order. thanks. uhhh. 
text it in this form. ,  THANKQEW. uh. oh . my handphone no is 93837445
Wednesday, August 26, 2009 @ 11:44 AM
PLEASE PAY YOUR MONEY
IT'S JUST 13BUX. PLEASE PAY MEEEEEEEEEE BY FRIDAY. I'LL BE IN SCHOOL.
IF YOU ARE HAVING YOUR HOLIDAYS, JUST COME TO BACK SCHOOL. THANKS.
Monday, August 17, 2009 @ 9:02 PM
ALL THE BEST FOR EXAMS!!! (:
HEY HOLQA!!

ALL THE BEST TO THOSE TAKING THEIR MAIN EXAMS NXT WEEK!!! (:

Study hard, study smart!! (:

Your GL,
Wan (Senior)

PS: Outings after exams yo! Promise! (: